---
---

Kensai's Gearbox
Muscle Ferret
John Thompson
When the UMF government called for bids on a tough scout unit, the Gearbox submitted this concept artwork, a set of projected specifications, and an advertising motto.
The specifications included a turreted sniping laser, a gatling machine gun, three APGL units, enhanced sensors, a ram plate, a vibroknife, an enlarged SMS, turbochargers, a repeating bazooka packing range-boosted rounds, a particle accelerator, a grenade launcher, a guided mortar, and the engine of a Kodiak.
All on a Ferret Mk. II chassis.
The motto was:
"To crush your enemies, to see them driven before you, and to hear the lamentations of their women."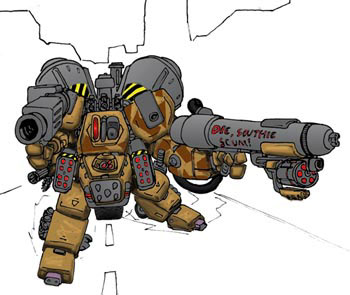 ---
---
---